Video Feeds Pages
The Video Feeds pages provide processor status and tenant configuration capabilities for all your connected video feeds. Root Config provides a list of all SAFR global default processor and feed properties.
The system is organized as follows:
Tenants can have directories.
Users and user IDs are security principals. They have privileges and map to a tenant. They have access to all directories within the tenant.
If you have super privileges, you're also able to read, write, or config other tenants' properties for APIs that allow for those changes.
A user ID can be restricted to particular directories within a tenant using white-listing.
Note: For cloud deployments, the Root Config properties are read-only. For local deployments, the Root Config property defaults can be changed by users with super config privileges. However, you are advised to make Root Config changes only when necessary.
The Root and Tenant configs and modes are set on the tabs. Worker config is set by clicking the Config button on the Processor Status page.
Tenant Config properties override Root Config properties or Feed properties for your account.
Root mode overrides settings set on the Root and Tenant Config pages. Tenant mode overrides settings on other pages.
Like the source URL, the Worker Config sets instance properties, although you can override any settings. This is useful to override settings for an individual device if, for example, there are unique lighting conditions for one feed.
This page provides a list of Desktop Client instances and video feeds associated with the account. Each row represents a separate computer running the Desktop Client that has a video feed associated with it. Inactive video feeds are identified by a red date-time status. Feeds are made inactive by either having status reporting disabled or shutting down the associated Desktop Client.
If the video feed is active, click View to access a streaming video window. Depending on your privileges, click Config to view, edit, or add attributes to override Root and Tenant global configuration settings for a single video feed. To make changes to global account settings, go to the Tenant Config page.

The Tenant is the primary account. Use this page to add and edit attributes of global settings at the account level to override the Root configurations. Directories can be added at this level by clicking the Add Item link. To make changes to individual video feeds, go to the Processor Status page.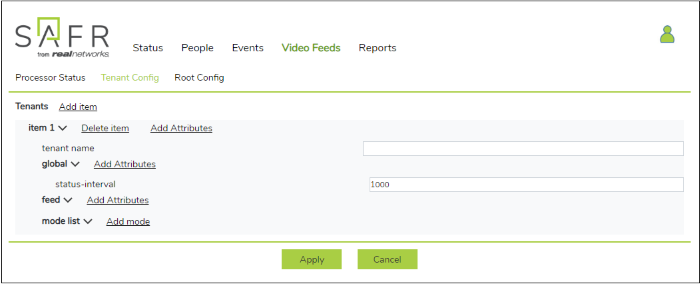 The Root Config page displays all the properties set in VIRGO by RealNetworks. These global settings are read-only for cloud deployments, but they can be changed for local deploymentts. To override these settings for your deployment, go to the Tenant Config and Processor Status pages.